So you are thinking about launching (or re-launching) a website. You've probably heard of popular services like HubSpot CMS and WordPress. Which should you choose (if either)?
Let's pit HubSpot and WordPress against each other and see who comes out on top.
In this article we'll cover both HubSpot' and WordPress's access to data, analytics, blog management, extensibility, page building, search engine optimization (SEO), and theming and styles.
Content Management Systems
Both HubSpot and WordPress offer their users content management systems. A content management system (CMS) gives website developers, owners, and admins the ability to build, write, modify, and extend web content. Using a CMS means that you may not need to write any code to modify a page, publish a blog post, add a product, or change simple settings. Both HubSpot CMS and WordPress do these things and more.
HubSpot CMS
HubSpot launched in 2006 and set the marketing world ablaze with talk of "inbound marketing". At its heart HubSpot is a marketing company that offers software and services to help businesses grow. One of their software packages is the HubSpot Content Management System (formerly branded the HubSpot Content Optimization System). HubSpot CMS is a website builder and blogging platform that works seamlessly with HubSpot's email, marketing, analytics, and search engine optimization (SEO) services. The HubSpot CMS is an all-in-one solution to your online marketing needs. According to HubSpot, more than 95,000 customers are using their services (their customer base doubled in the past three years).
WordPress
Compare that with WordPress – the most popular CMS on the Web – with more than 60 million active websites (including 35% of the top 10k most visited websites). WordPress is at its heart a content management system so the natural foci of HubSpot and WordPress are different.
HubSpot is a streamlined marketing service first and foremost.
WordPress is a flexible CMS first and foremost.
Consequently, these two platforms have different strengths and weaknesses and the means of shoring up their weaknesses vary.
HubSpot vs WordPress
Let's put these two in the ring and see who emerges the victor.
Access to Data
Your organization needs access to its website's data. You may want access to your website's data in order to make your own manual backups or to transfer your website from one host or CMS to another. Thankfully both HubSpot and WordPress give their users access to their data.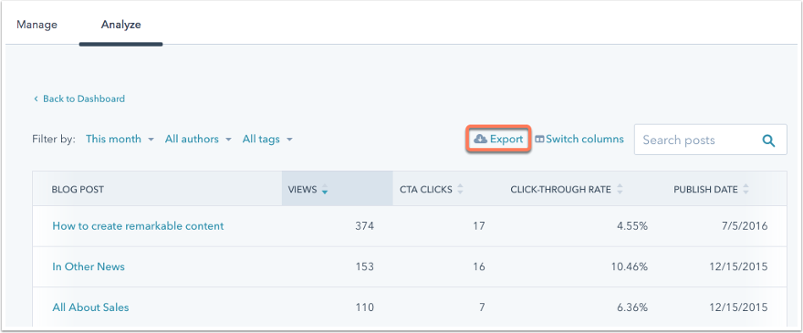 HubSpot allows their customers to export nearly everything from their marketing, client relationship management (CRM), and CMS software including:
Published social media messages
Form submissions
Landing page data
Keywords data
Page Performance data
Email performance
Recipient data for a particular email
Data for published blog posts
Website data (page HTML, file manager files, URL mappings, Sitemap)
List of contacts, companies, or deals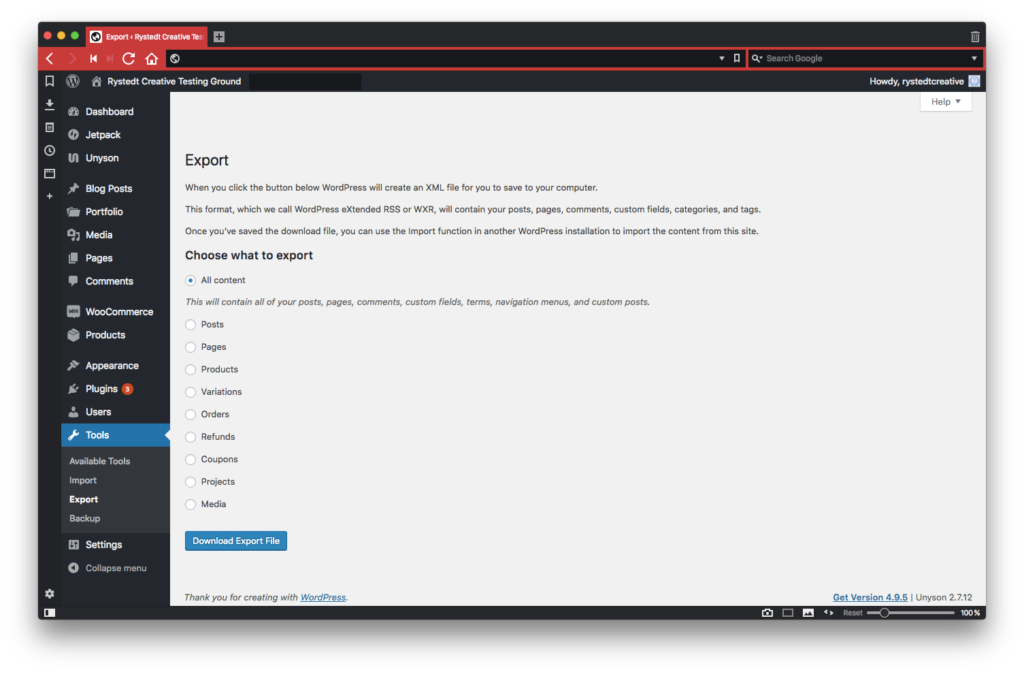 WordPress is open source software – meaning that anyone can use, distribute, or customize it. Thus WordPress gives its users unrestricted access to their data including:
Posts
Pages
Comments
Custom fields
Navigation menus
Just keep in mind that exporting all your data from either service may require multiple export files for different data types. Furthermore, just because you have your data doesn't mean you can just plop it onto a server and have a functional website. If you need to export your data in order to transfer to a different host or CMS you may need the assistance of a web-developer.
Access to Data Victor
Our first round is a tie. Both HubSpot and WordPress care about your organization's access to data.
Analytics
If you plan to monetize your website (or continue to grow your income) you will want to be able to quantify your online traffic. That's what analytics are for. If you aren't using Web analytics to track your website's traffic you are missing important data on what is driving traffic, converting customers, and causing visitors to bounce.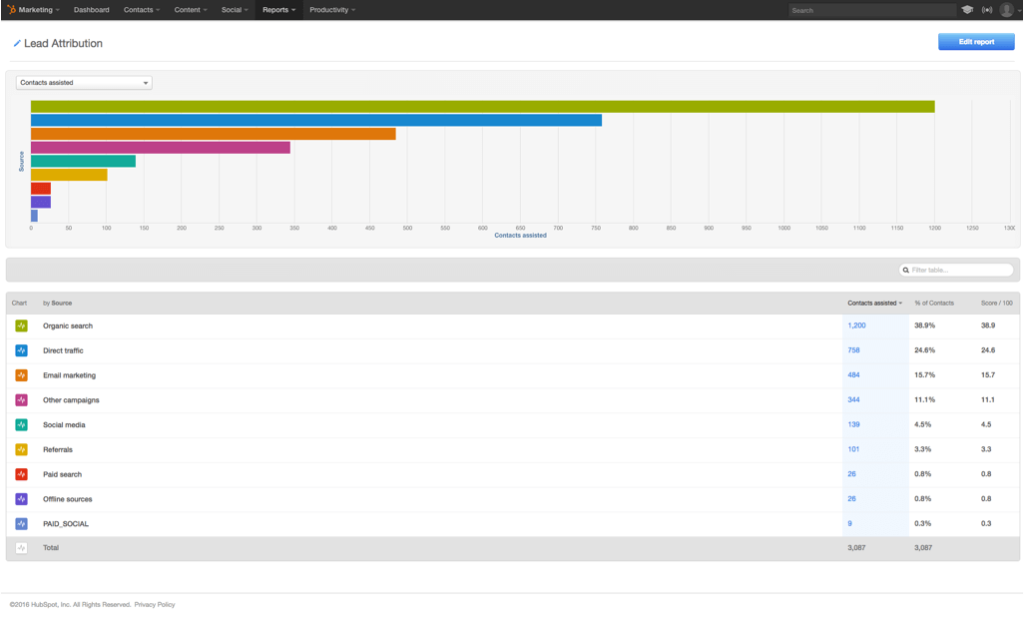 HubSpot's analytics software is robust – especially when used in conjunction with their marketing services.
"Analyze how each of your pages are performing in terms of views, keywords, and inbound links, and identify which traffic sources bring in the most visits, contacts, and customers over time. Then drill down into each source to see the individual contacts and companies it's generating."
HubSpot's analytics software is built into the HubSpot CMS. HubSpot gives you a one-stop all-in-one solution to your website and analytics needs. HubSpot will allow you to launch your website and start tracking visitors immediately.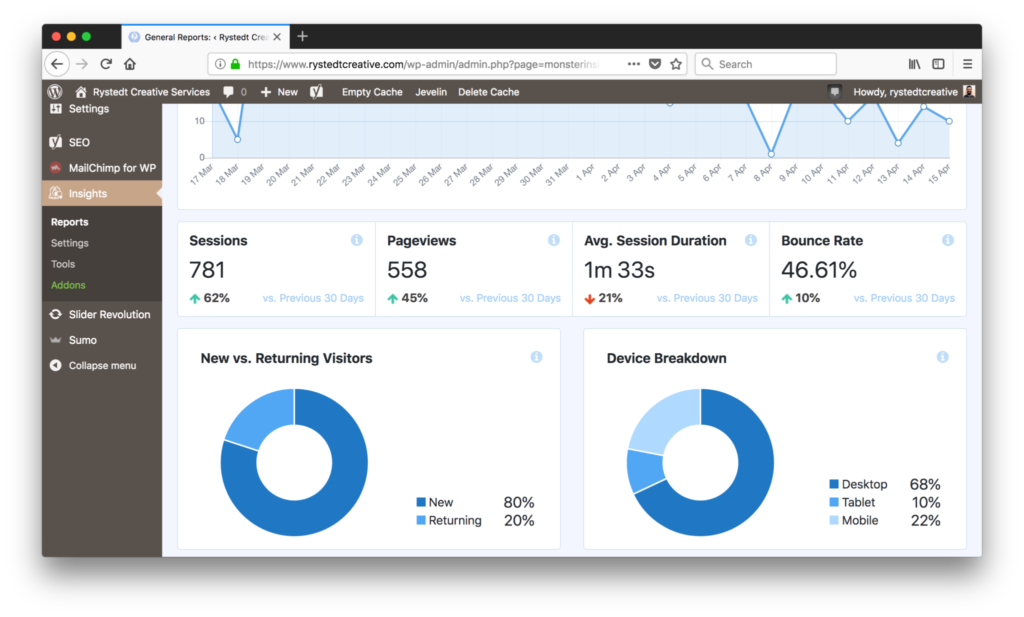 WordPress, on the other hand, does not include analytics by default. But analytics are easily added to any WordPress website. Plugins like JetPack and Monster Analytics make WordPress analytics close to "plug and play". Plus, businesses who choose to use WordPress for their CMS but HubSpot for marketing (yes, that's possible) can integrate their HubSpot analytics tracking into their WordPress website.
Analytics Victor
Despite WordPress needing a few extra clicks before analytics are up and running, we're going to call this round a tie. Both HubSpot and WordPress offer easily accessible analytics and additional analytics services can be added. If you are looking for an all-in-one solution you may want to choose HubSpot. If you want choices and control you may want to choose WordPress.
Blog Management
Every website needs a blog because blogs are still one of the top performing content marketing tools. You can use your blog posts to drive new traffic, invite subscribers, build trust in your brand, and even nurture your leads. If your organization or business isn't blogging regularly you should set a goal to start. We can help.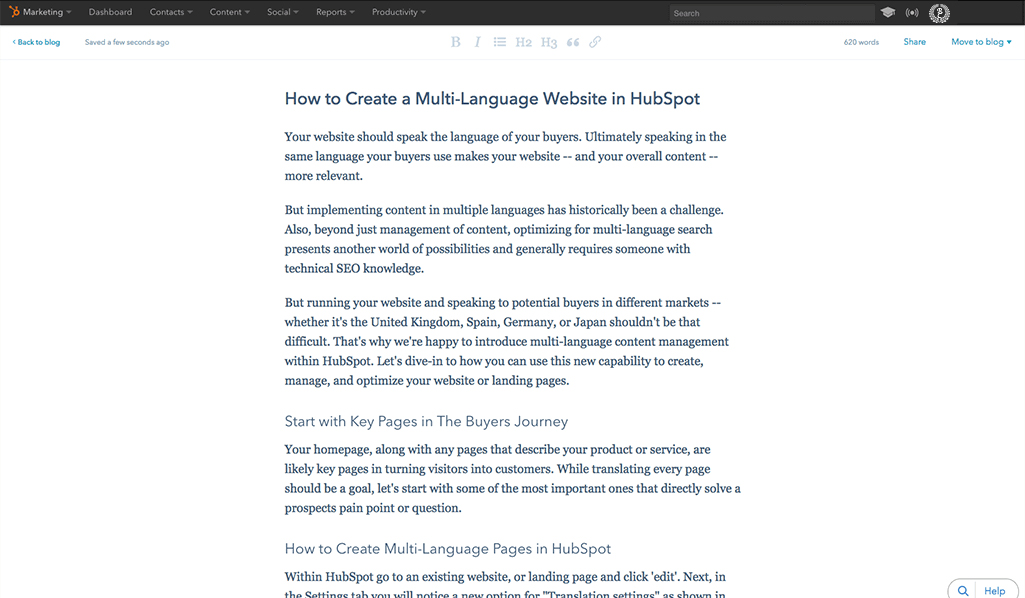 HubSpot has worked diligently to make their CMS blogging platform intuitive and feature filled. With a HubSpot blog you will be able to write, format, and edit your blog posts with a "what you see is what you get" editor. HubSpot's blogging platform also allows you to schedule your posts and easily add calls to action (CTAs) to every post. But without custom developed HubSpot modules their blogging tool's features don't go much further than that.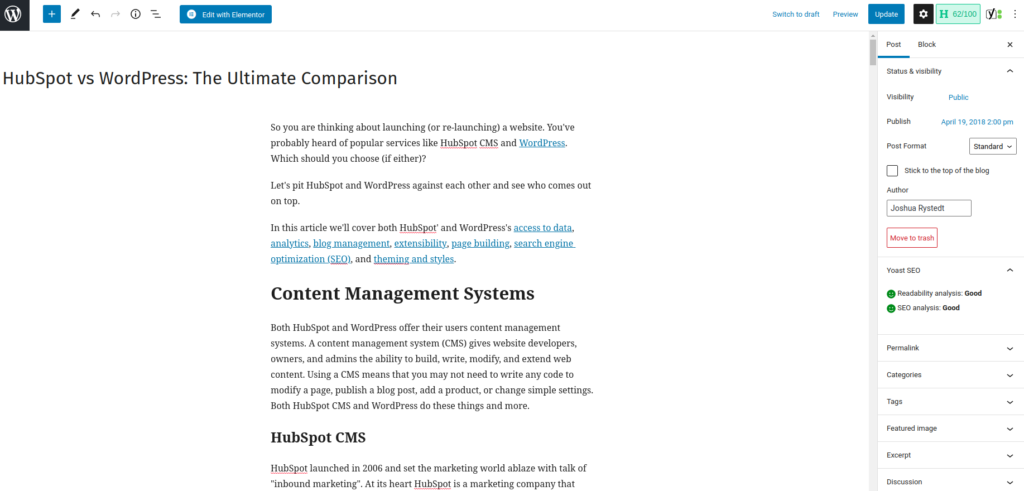 WordPress began as a blogging CMS and it still excels here. WordPress allows you to write, format, edit, and schedule posts without knowing any code.
The WordPress community has worked hard to keep the platform the best content management system available. A couple years ago WordPress launched a new content editor called Gutenberg that brought a block based almost what-you-see-is-what-you-get (WYSIWYG) experience.
Blog Management Victor
If you want to launch a website and blog easily and immediately with marketing in mind HubSpot is the right choice. But HubSpot isn't very extensible (see below) without a HubSpot developer's help. That means that you will need to blog the way HubSpot wants you to blog – forever.
WordPress is endlessly extensible. The advantages HubSpot has over WordPress in blogging management can be filled with plugins. You can use page builders or Gutenberg to make the blog editor easier to use and you can use various plugins to add visually pleasing (and trackable) CTAs. Plus much more. If you can think of it there is probably a way to add it to your blogging experience on WordPress.
With WordPress' new blog editor coming into its own these platforms are once again largely comparable for blog management with HubSpot being easier to jump into but WordPress providing more robust features.
Extensibility
Extensibility is the extent to which you can add to and customize a CMS. As businesses grow they usually begin adding unique features to their websites. Extensibility makes this easier (and cheaper) to do.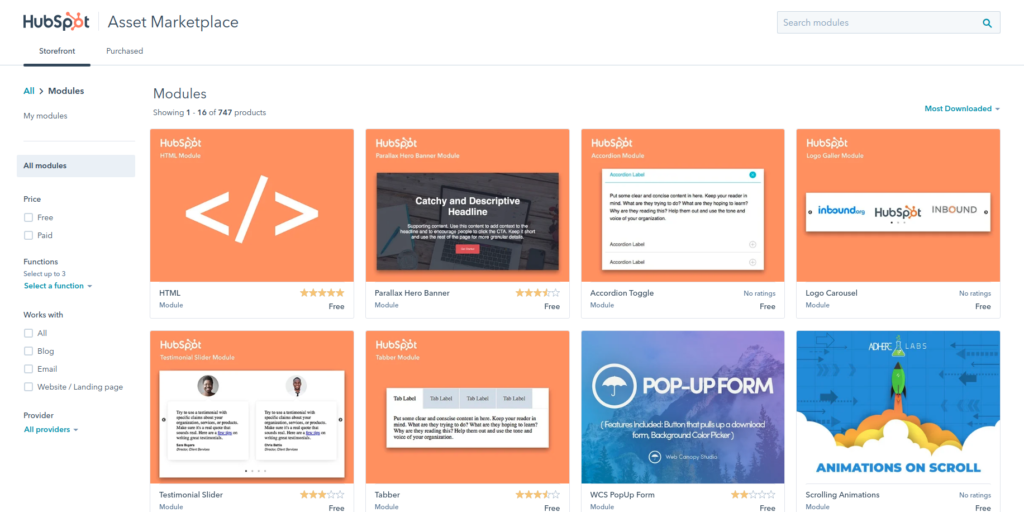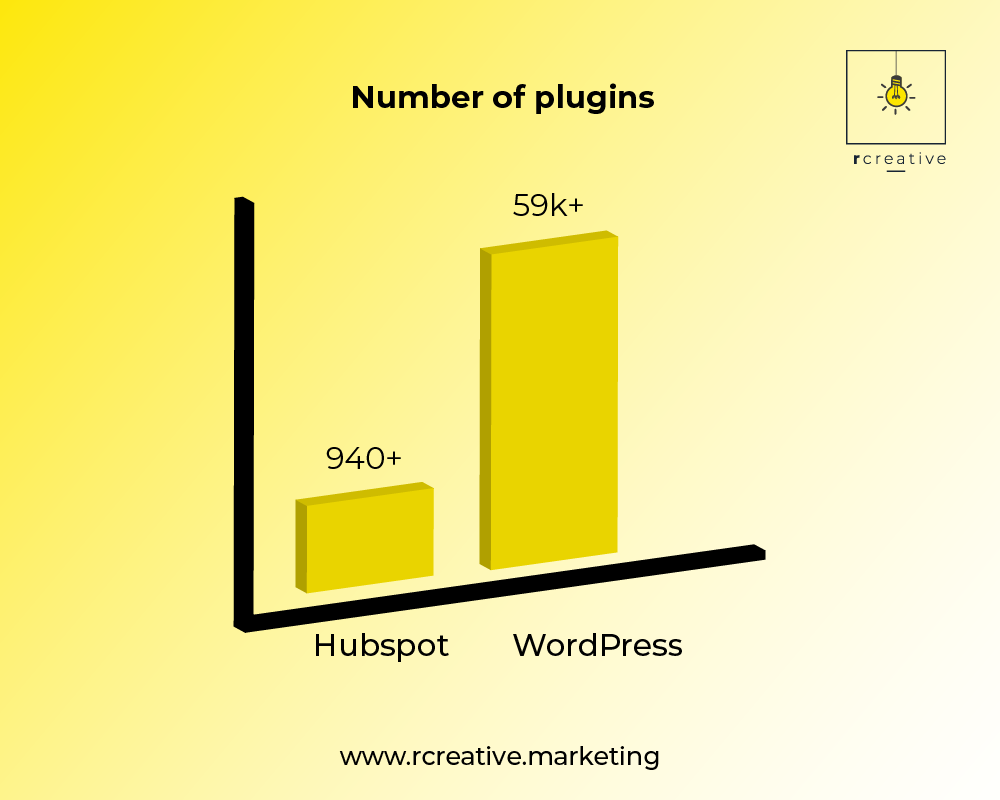 HubSpot is propriety software that must be used in a pre-defined way. HubSpot owns their software and your website and closely guards those properties. Since we originally published this comparison HubSpot has made modules available on its marketplace. Huzzah! But there are only about 750 of them at the time of updating this article. Meaning that if you want to add a feature to your HubSpot site or blog that can't be accomplished by one of those modules you will need to hire a HubSpot developer.
To make matters more complicated HubSpot has opted to use their own propriety coding language, called HubL, for use in developing modules for HubSpot CMS. We at R Creative are becoming increasingly comfortable with HubL (which is really a customized Python templating language) but not every developer is. Many companies will need to resort to hiring a specialized HubSpot developer to extend their website's functionality.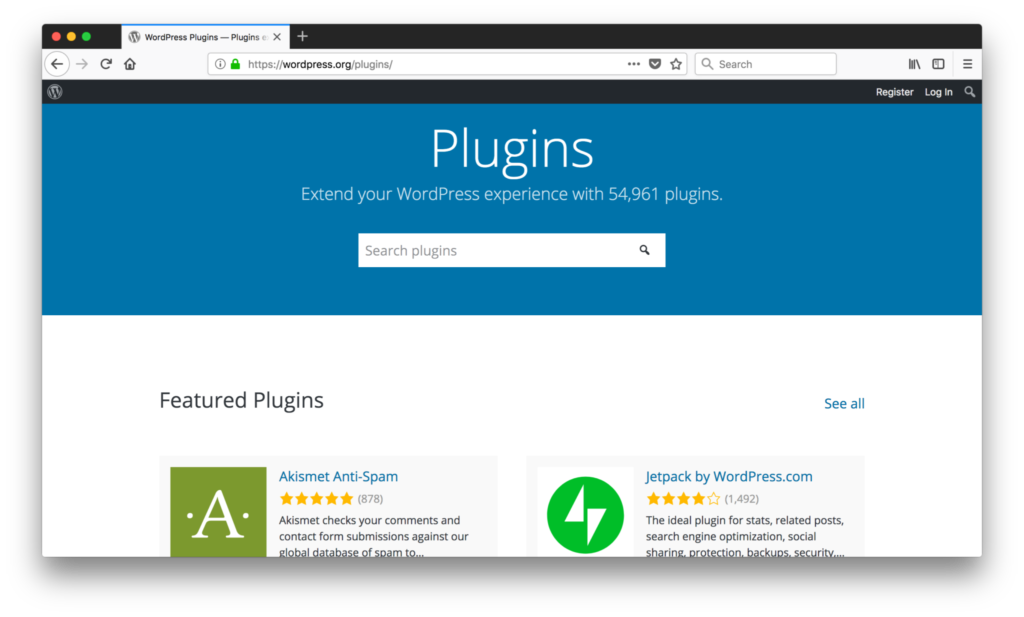 WordPress currently has more than 58,000 plugins in its official marketplace alone – most of which are completely free. This makes it as easy as clicking install and activate for most new features to be added to your website.
In addition to these 58,000 plugins, there are countless premium plugins sold elsewhere online by WordPress development companies. Finally, if your company or organization needs a feature that can't be sufficiently met by a plugin you can hire a WordPress developer to build one for you. The codebase for WordPress is open-source and commonly known amongst developers, so finding a developer to assist you with a specialized need is much easier than finding a HubSpot developer.
Extensibility Victor
Since WordPress has an established, large, and growing plugin marketplace and is more easily extended in the codebase it is the clear victor of this round.
Page Building
Your website needs pages about you and your products or services. Webpages can, of course, be coded from scratch. But a CMS is supposed to make it easier for a non-developer to build web pages.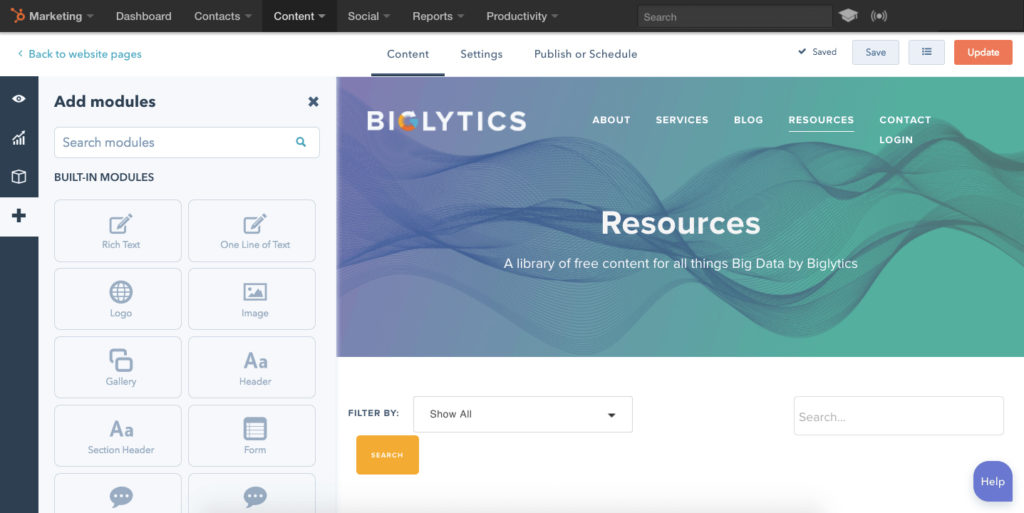 HubSpot CMS offers a drag-and-drop "what you see is what you get" page builder that uses modules to build the page content.
The default modules cover standard page features such as menus, social media buttons, text, subscription forms, headers, CTAs, sliders, blog posts, and images. Anything more complicated needs to be developed by scratch using HubL or grabbed from the limited HubSpot module marketplace. The builder itself is easy to use and intuitive as long as you are satisfied with your theme and you don't need additional features.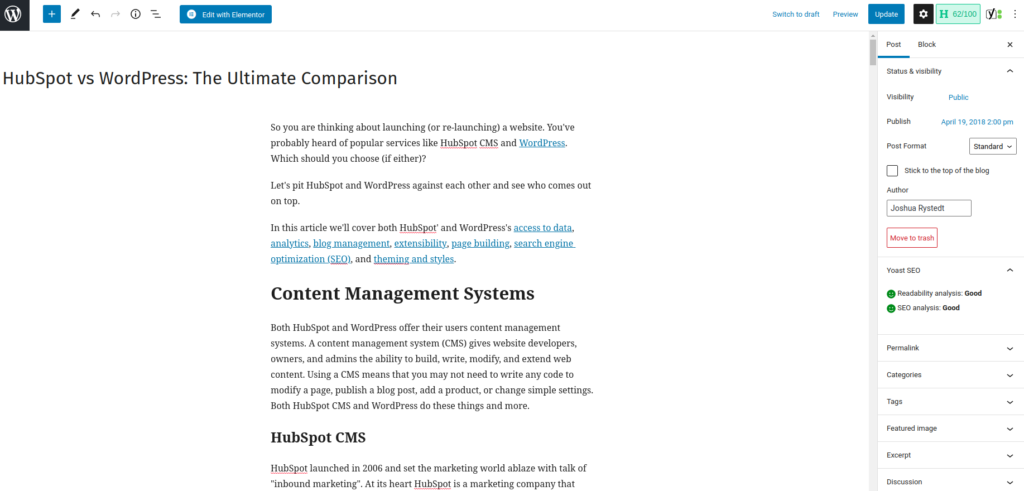 HubSpot offers a better page building experience than WordPress does out of the box but WordPress' extensibility means that there are visual page builders a few clicks away. The Avada theme's Fusion builder, Pro and X theme's Cornerstone builder, and the Elementor plugin are some of the best on the market. All three of those professional page builders offer more modules with deeper customization than HubSpot CMS does. Better yet, most new WordPress themes are fully integrating with WordPress' new default page editor making complex layouts and WYSIWYG editing an increasing reality for WordPress sites out of the box.
If your page builder doesn't include an element type with the feature you want, most builders provide documentation so that a WordPress developer can create custom elements for your page builder.
Page Building Victor
HubSpot looked like it was going to win but WordPress' extensibility turned the tide. We're giving this round to WordPress.
Search Engine Optimization
Your website needs to be optimized for search engines. Strategy, site structure, site speed, mobile optimization, structured metadata, and topical keyword usage all play a part in SEO. You don't get a prominent listing on Google by merely existing online. Google needs to see that your website provides what people are searching for.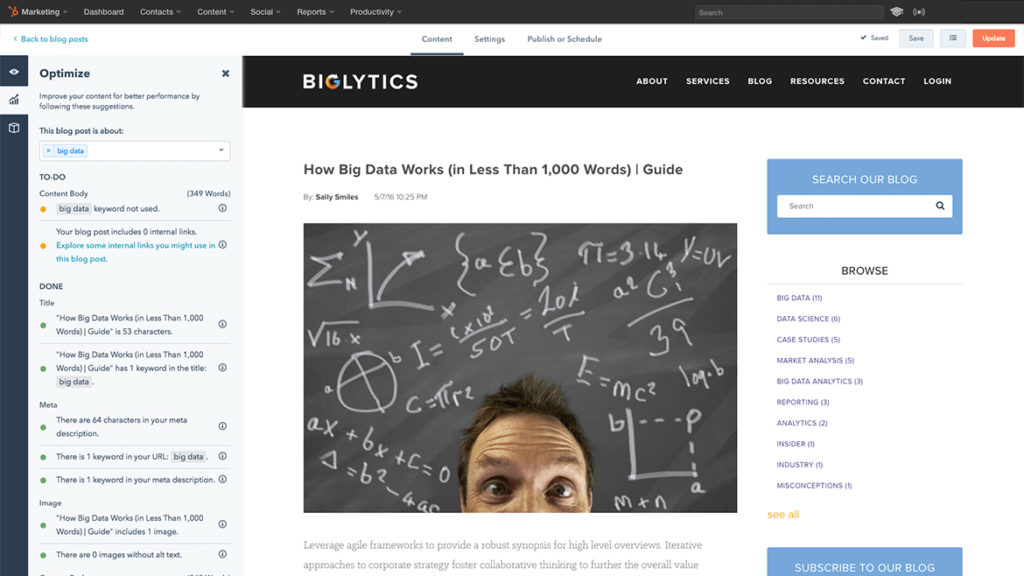 With HubSpot CMS your website comes with SEO tools built right in. HubSpot's SEO tools will provide you with keyword research for topics you're focusing on, strategic graphs for organizing your content, and on-page SEO tips to better optimize your blog posts.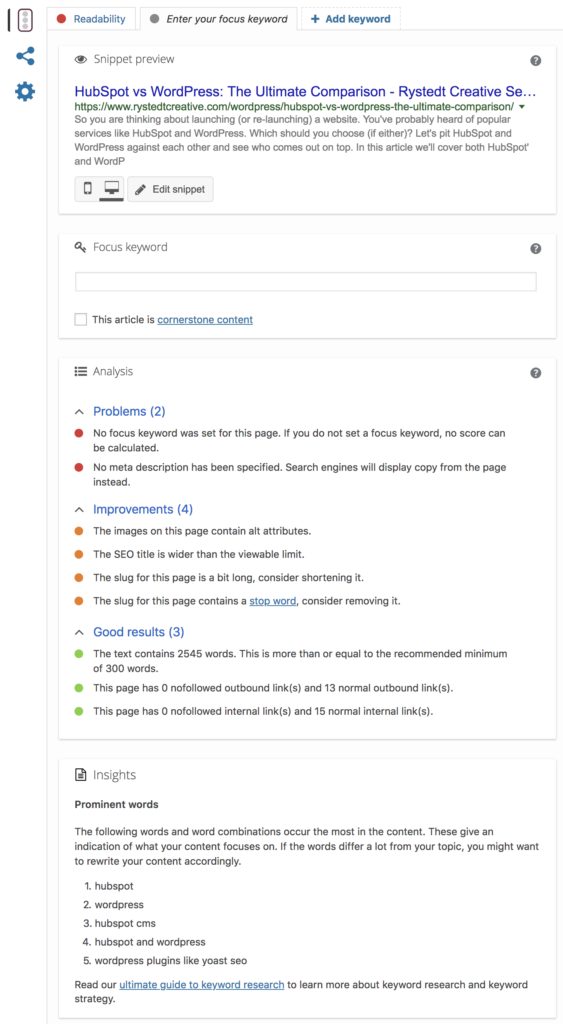 As with most online marketing features WordPress doesn't have SEO tools baked in. Yet HubSpot isn't delivering anything unique here besides bundling the SEO features for you at website launch.
If you choose a WordPress website you can use online tools like SEMRush to do keyword research and WordPress plugins like Yoast SEO for keyword optimization, Google snippet previews, XML sitemap generation, and general SEO tips. Even the free version of Yoast SEO helps you accomplish some things for your blog posts that HubSpot doesn't – like custom and rich structured metadata.
SEO Victor
With popular and robust WordPress plugins taken into consideration HubSpot doesn't provide you with any SEO tools WordPress can't. HubSpot doesn't even give you complete control of your structured metadata on a per-post or per-page basis but WordPress plugins like Yoast SEO do. That's why WordPress wins this round.
Theming and Styles
Every website needs a defined and uniform style. Content management systems usually use "themes" to give this uniform style to your website. Both HubSpot and WordPress support themes.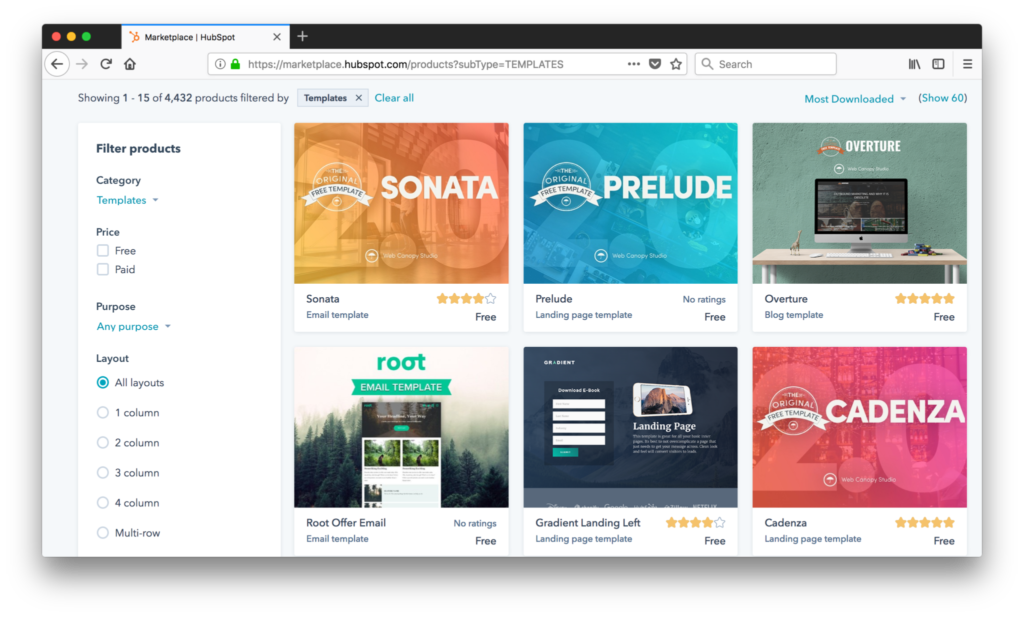 HubSpot themes are built using standard web languages combined with HubL and are sold on the HubSpot Marketplace. The HubSpot marketplace has over 5,000 templates but not all of these are site-wide themes. Many are single themes for emails, landing pages, web pages, or blog pages.
For a uniform look you will want a template pack and there are only about 230 of those (that's 20 less than when we originally published this comparison three years ago!). Most businesses using HubSpot hire a web-developer or firm to design a uniform atmosphere for their HubSpot content and develop template files to match. Customization of HubSpot templates is limited mostly to customizing them at the code level. If you don't know HTML, CSS, JavaScript, and HubL, customizing a HubSpot template's look yourself is out of the question.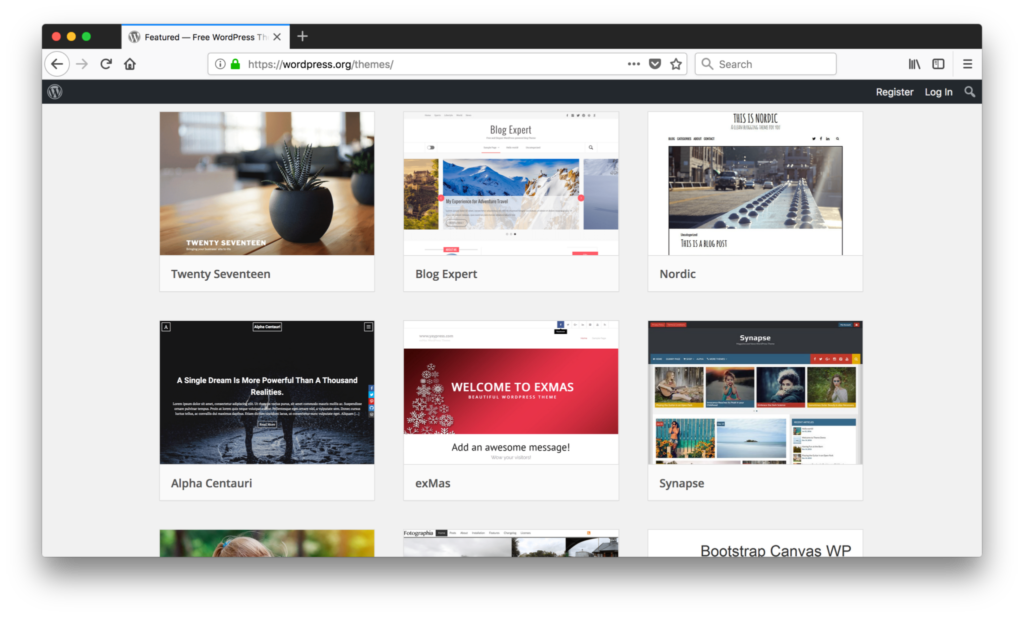 WordPress, by contrast, has tens of thousands of themes across multiple marketplaces that give a uniform look and feel to your entire website and all of your content. Furthermore, most WordPress themes are highly customizable without knowing any code via admin panel settings. The number of available themes, the customizability of those themes, and the accessibility for developers to modify those themes means that WordPress theming is nearly limitless.
Theming and Styles Victor
WordPress wins.
Need we say more? Unless you want to call a HubSpot developer for every little theme change there is no advantage to theming on HubSpot CMS.
Which should you choose? HubSpot or WordPress?
Let's tally the score. Which CMS is the best choice? HubSpot or WordPress?
| | | |
| --- | --- | --- |
| Feature | HubSpot | WordPress |
| Access to Data | x | x |
| Analytics | x | x |
| Blog Management | x | x |
| Extensibility | | x |
| Page Building | | x |
| SEO | | x |
| Themeing and Styles | | x |
Our Comparison (Updated 2022)
If we give every category equal weight WordPress wins. But this article only compares these CMS features – it doesn't factor your unique web needs into the equation. Which CMS fits your web needs the best largely depends on your unique page building, theming, and scalability needs.
R Creative has experience in both WordPress and HubSpot development. Need help launching (or re-launching) your website? Your next step is as easy as contacting us.