Are you a business struggling to keep up with the ever-changing world of marketing? You're not alone. You might even be trying out some of the AI content marketing tools out there that are grasping for your attention (almost like a freshly-graduated freelance writer…) 
These tools promise to change the marketing game, and dramatically cut your time spent on marketing efforts by producing AI content generation that's almost as good as human-generated content (according to a reported 82% of marketers in a recent study).
Yeah, you noticed that little "almost" we slipped in there.
For sure, AI-generated content on the whole is wildly impressive. Content marketers like ourselves are utilizing elements of AI marketing tools to improve our brainstorming and structuring processes. Everyone is catching the AI fever.
However (you knew that was coming), there are limitations at this stage in the game, many of which we've already discussed. Now that AI marketing content is becoming a standard tool in many businesses' arsenals, the R Creative team has developed a premium AI Assist service that enhances your AI marketing tools to really deliver.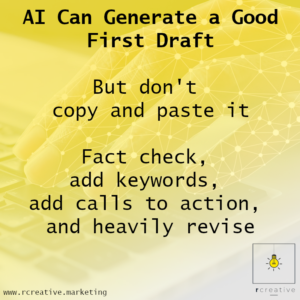 AI Assist: why it's essential to your AI content strategy
What is an AI Assist service?
AI Content Writing Assist is a premium service now offered by R Creative that helps manage the quality of AI-generated marketing content.
AI content writing only really works with high-quality input. Quality input gives you quality content. General input gives you boring, easily-duplicated content that may get you deranked on Google's search engines. Highly loaded and manipulated input gives you a lovestruck AI bot that casually mentions they could destroy the world.
That's what we offer here — high-quality input for prompts, and skilled refinement for those polished touches.
AI boosts your content. Our AI Assist boosts your AI.
Do you need finishing touches? Or the whole enchilada?
The AI Content Writing Assist is offered in two packages.
Do you already have a good thing going with your AI program of choice, but just need some polish? The Post-AI Assist Package ($200 per page, up to 800 words) offers specialized services in copyediting, fact-checking, SEO optimization, and personalized branding language.
You give the prompts. Your AI drafts the content. We edit, optimize, fact-check, personalize, and polish.
Conversely, do you need a content overhaul, or just have no idea where to start with your AI? Our Complete AI Assist Package ($1150 startup, then $200 per page) offers an all-inclusive set of services that includes:
An audit of your current AI system use and a strategy for best practices.
Extensive market and keyword research for effective AI prompt input.
Generating strategic prompts and editorial schedules.
Generating your content with top AI content writing tools, using our personalized prompts.
Comprehensive edits, fact-checks, optimization, and polishing that ranks you.
Need a refresher on the importance of SEO ranking for your business? Here are 5 big SEO myths we've busted.
How can I start optimizing my AI content now?
Do you feel like your brand is getting drowned out by everyone else's repurposed AI content? Our AI Content Writing Assist service takes the guesswork out of generating AI content that really shines.
We work with your preferred AI marketing tools to offer a comprehensive suite of features that includes content optimization, copyediting, prompt generation, and more. Our AI-driven approach ensures that your content is tailored to the latest marketing trends and swiftly generated, giving your business credibility and leads that stay.
Your next step to improving your AI content marketing strategy is as easy as contacting us.